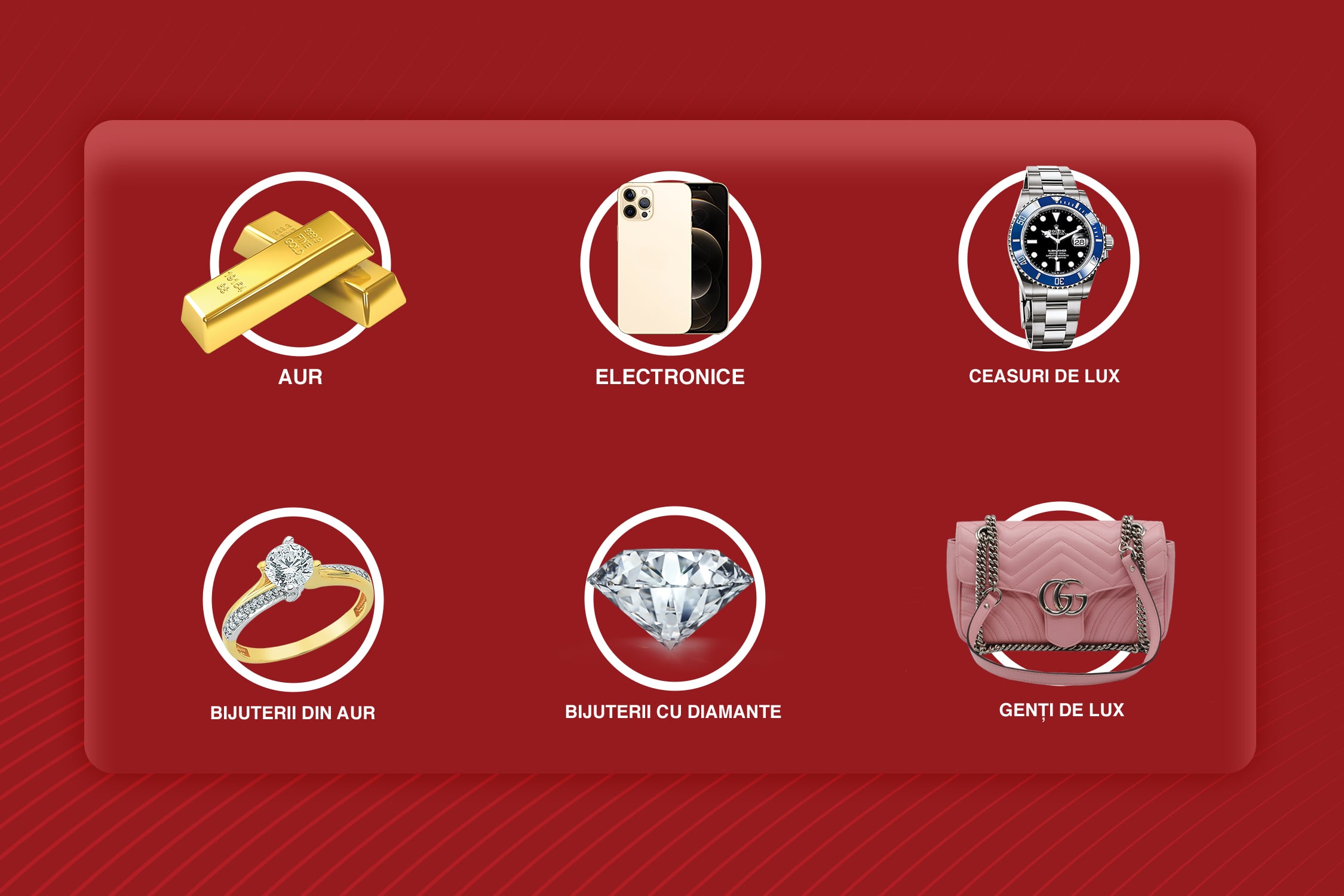 Quality pawn services, sales and currency exchange - only at CreditAmanet in Supernova Bacău!
Borrow with confidence from CreditAmanet
Do you want to sell a personal item or electronic device, or do you need a loan in exchange for the item you bring? Come to CreditAmanet in Supernova Bacău! Here, your jewelry will be estimated at a fair value using certified testing methods, which also involve the use of a specific reagent for each carat weight. To get a price estimate, you can use the online form on the website www.creditamanet.ro and you will be contacted by experienced staff in the shortest time possible. In addition, at the CreditAmanet agency in Supernova Bacău, you can sell or use electronic devices such as phones, tablets, laptops, wireless speakers, DSLR cameras, gaming systems, and much more as collateral for a short-term loan.
Other items that you can sell or get a short-term loan for include luxury bags and watches, as well as diamonds, which will be evaluated based on their weight, color, clarity, and cut.
At CreditAmanet, you can enjoy various services.
In addition to the pawn contract that can be made for a period of 5 to 30 days, with the possibility of extension, at the Supernova Bacău agency, you can also purchase new gold jewelry by exchanging old gold jewelry. You can also transfer money to your acquaintances through the Western Union service, as well as exchange money at advantageous rates in the most commonly used currencies. The Canadian dollar (CAD) may be available on request, so that all customers' needs are met. We are waiting for you at the CreditAmanet agency in Supernova Bacău for the best buying and selling offers!
CreditAmanet, the best solution for your needs
CreditAmanet was founded in 2008 and is on a continuous rise, currently having branches opened in the most important cities in Romania. CreditAmanet stands out for its vast experience in the field and offering quality services regarding the loan system and the trade of mobile goods. Among the company's values are innovation, professionalism, and perseverance, aiming to strengthen the community's trust transaction by transaction for each client. Come to the CreditAmanet agency to get a short-term loan with collateral in the form of goods or to enjoy advantageous exchange rates in euros, pounds, Swiss francs, and dollars.