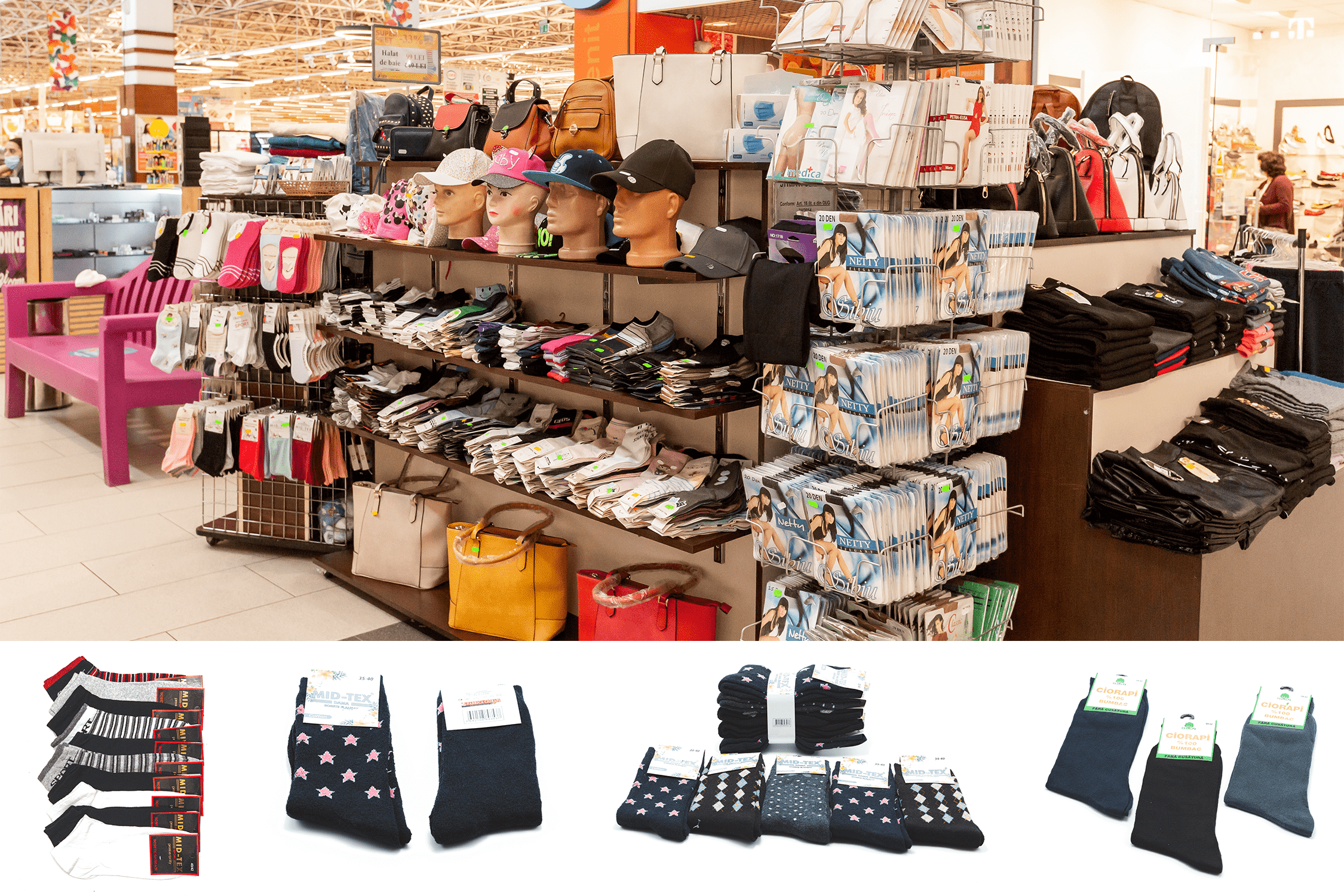 Come to the Figu stand in Supernova Bacău for quality socks for women and men!
Figu - 15 years of experience in selling socks
It is not always easy to find a quality and durable set of socks, and the same applies to women's tights, which should have a good value for money. That's why Figu comes to the aid of customers who appreciate the delicate materials from which such textiles are made for everyday use.
At the Supernova Bacău stand you will find socks for men and women, tights, leggings, scarves, and women's bags at affordable prices and suitable for all tastes.
With a long experience in this field, the Figu team will offer you specialised advice regarding your needs and will help you identify the most suitable products for each occasion. Don't forget the wide range of wallets available for her and him, which can be found in different shades and sizes.
Come to the Figu stand in Supernova Bacău and convince yourself of the quality of the products sold!
Socks for all seasons at Figu
Socks play multiple roles, from protection to completing a sporty or casual outfit with cheerful prints or colours complementary to the clothing worn. The Figu team understands such needs and comes up with a wide range of products for women. From lycra socks to high-heeled socks, special socks for sports activities, warm winter socks or seamless top socks for a high degree of physical comfort, you will find everything here.
Gentlemen can enjoy the same product categories at the Figu stand in Supernova Bacău, having at their disposal different models and textures to choose from. When wearing an elegant suit, the colour of the socks is very important in relation to the pants, shirt, and jacket worn. You can rely on the advice of Figu staff to make the best decisions based on such criteria. Winter socks will ensure the necessary thermal comfort, so that your feet always maintain an optimal temperature.
Accessories for women and men at great prices
In addition to the wide variety of socks available in stock at the Figu stand in Supernova Bacău, here you will also find scarves, shawls and headbands, which will protect your head area from low temperatures. Take a look at the selection of gloves available in various shades and sizes, so that you can protect your body from head to toe. The bags available at the stand are suitable for both casual and elegant outfits, so that the ladies can easily refresh their wardrobe.
We are waiting for you at the Figu stand in Supernova Bacău with quality socks and accessories!